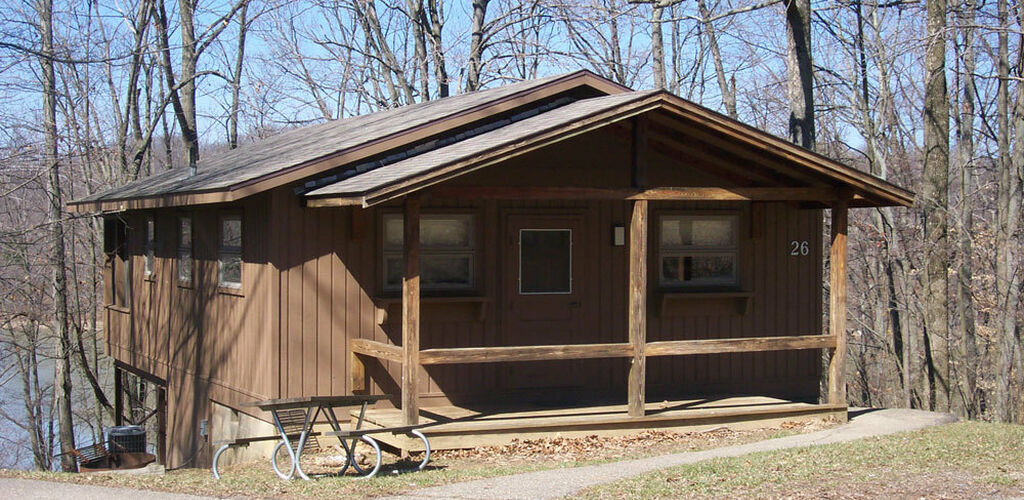 Surround Yourself with Nature
If you prefer to surround yourself with the serenity of nature, we are proud to offer 30 cozy cabins, all nestled amidst the lush green foothills overlooking Burr Oak Lake. All of our cabins are located within one mile of Burr Oak Lodge, so you'll have easy access to as many lodge amenities and activities as you like.
Check-in time: 4:00 p.m.
Check-out time: 10:00 a.m.
---
Standard Cabins
We offer 14 standard cabins that can comfortably sleep up to seven. Each cabin offers two bedrooms; one bedroom offers a queen size bed, the second bedroom has two sets of bunk beds, one is a double bed and three are single beds. Standard cabins are located approximately 1 mile from the lodge.
One of these cabins is Handicapped Accessible and must be requested at time of reserving, subject to availability.
Deluxe Location Cabins
Our eight deluxe cabins have room to comfortably sleep up to seven. They are located nearest to the Lodge, and each feature two bedrooms. One bedroom has a queen size bed and the second bedroom contains two sets of bunks; of the four bunk beds, one is a double bed and three are single beds. Deluxe cabins are located within walking distance of the lodge.
Pet-Friendly Cabins
We have eight standard cabins that are pet-friendly, so be sure to keep your furry four-legged family member(s) in mind when making reservations! A pet cleaning fee per night is included in the rate.
Please note, cabins do not have telephones.
---